There was a request from the many of our clients for the department level visibility of documents. In the past, eSign Genie security as strictly hierarchical, i.e., managers can view the documents of their subordinates irrespective of their departments.
How does this feature help:
This feature promotes collaboration within the department and help team members share the workload and ultimately helps teams gain efficiency.
Roles Assignment:
Regular User: Can create the template or use shared templates, send the document to get signed.
Administrators: Can set some account settings, edit email templates, perform the email group upload, create document templates and send functions. Additionally, they can also monitor the documents associated with their subordinates if assigned as manager to another regular user or admin.
Super-administrator: Can control the entire functionality of eSign Genie and view any document created by any user in the system. Super-admin account users can create the document templates and assign it to the users.
In addition to the roles assignment, we have provided an additional option at user setup level to share the document with the department administrators.
New Feature:
With this new Department level sharing feature, we are expanding the capability to share document the users with the other department administrator users. As long as the user belongs to the same department as the administrator and has the 'Share Documents with Department Administrators' checkbox is selected on their profile (Navigation: Settings > Account Users > Edit User), all the administrator in the regular user's department are allowed to see the documents. Administrators will not be able to perform an action such as sign the document if it is not assigned to them etc. due to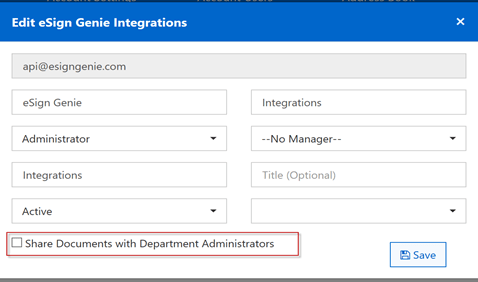 other security restrictions but will be able to review and check details of the documents.
Administrators can see the documents under the 'Shared Documents within Departments' tab.