AND IT MIGHT INVOLVE HEFTY FINES LEVIED ON HR MANAGERS

Although hiring forms can be very tedious such as the Form I-9, research suggests that HR and Administration departments in U.S. mid-size firms encounter costly issues that result in liabilities, costs, and penalties from government. A few operations changes and some very simple tools will reduce the chance of penalties.  

Form I-9 Summary
Form I-9 is required for immigrants to work in US
 Employers must retain the form for "three years after the date of hire or for one year after employment is terminated, whichever is later" – USCIS.GOV

Fines, liabilities, and real offenses can be levied against HR management and company owners for not filing

Delays and stress on filing I-9 Form can be limited using a template or compliant electronic signature form with a good audit trail  
Overview
U.S. businesses must comply with the regulation regarding Form I-9 as required by the U.S. Department of homeland security.  Employees must also sign and submit citizenship and immigration services documents (USCIS), which verify employees' eligibility for working in the U.S.  Failure to sign and submit these documents could result in criminal offenses levied on the employers along with fines levied on managers, owners, and HR staff members.

The gravity of the offense is well articulated via financial value.  Small and medium-sized businesses can face fines for violations from $110 to $1,100 and $216 to $2,156 depending on the violation.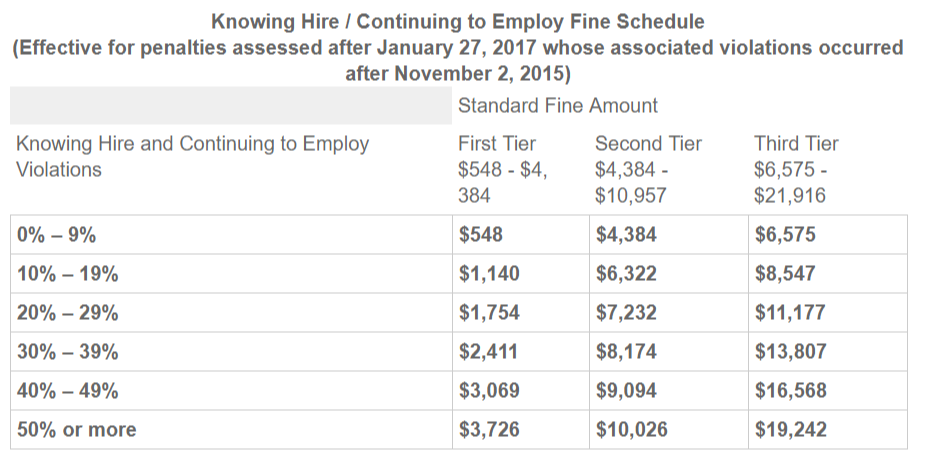 Source: https://www.ice.gov/factsheets/i9-inspection#fineSchedule

Reduce HR liabilities with Form I-9 through electronic signature process
Management can breathe easily with a compliant, secure, and auditable electronic signature tool. Try the form here or use the bulk option to get signatures from all your employees as soon as possible.  

Become the most organized and effective person in HR management without days deciphering complex software.

Not convinced?  Read more about the benefits of electronic signatures for From 1-9.  

Consider forms beyond Form I-9 to reduce HR signature frustration